"Na N6 million.. let the oppression begin" – Nigerian youths brag as they show off their iPhone 13 Pro max (Video)
"Na N6 million.. let the oppression begin" – Nigerian youths brag as they show off their iPhone 13 Pro max (Video)
A viral video shows the moment some Nigerian youths were flaunting their brand new iPhone 13 pro max, which was released barely a month ago.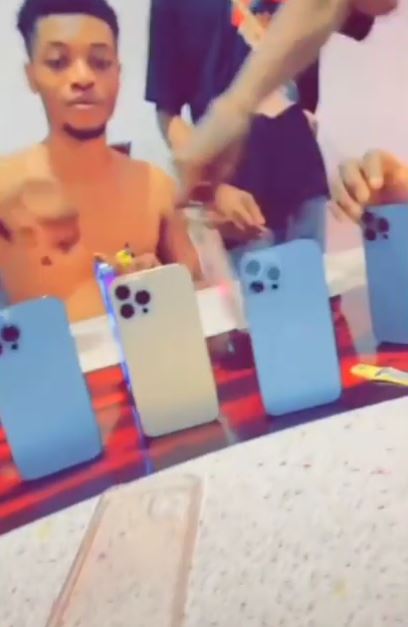 Six iPhones were placed on a dining table as the boys bragged about the price and stated that it is worth more than some people's father's car and house.
While they were bragging, another dude placed his iPhone 12 on the table alongside the iPhone 13s, but he was shunned and asked to remove it with immediate effect.
How much altogether… Na 6 million
Your papa GLK
Your papa land
Your papa private jet
Let the oppression begin", they could be heard saying.
Watch the video below,
The video has generated mixed reactions on social media as some netizens opine that they've made themselves easy prey for officials of the Economic Financial Crimes Commission.
biancahorchids1 wrote, "Efcc save this video tracking them now
"
theogbeniopa wrote, "EFCC typing…"
romeofb wrote, "When they parade them in public after arrest, they start blaming people from their villages. It's like a curse money made fraudulently must be loud ; it can't be silent"
WATCH THE FULL VIDEO: Tiwa Savage SEXTAPE
TRENDING: Watch controversial Tiwa Savage sex tape posted on Snapchat
Recall, Tiwa openly stated that she is a victim of blackmail. She revealed in a revealed that a blackmailer is currently in possession of footage showing her intimate moments with her lover during a recent interview with American OAP, Angie Martinez of Power 105.1.
According to her, the sex video was accidentally posted on Snapchat by her lover who deleted it immediately when he realised the error. However, it was too late. Now, someone wants to extort her.
The Genius Media Nigeria reports that the Story of Tiwa Savage Sextape has since generated a lot of controversy with many calling for her to be strong and unafraid.
" alt="" aria-hidden="true" />
"No part of me wants to pay the person. That is what is getting me angry. If you want to put it out, put it out. I am that crazy that I can put it out myself. You are not making any money from me. This was an intimate moment with someone I am dating. The person I am dating is not famous, he is a regular guy and his whole business is about to be out," Tiwa Savage said.
"He is more concerned about me because he knows that I am going to be more affected. My mother and my son having to see it. I am going to talk to my son about it.
"For me, it is when he is older at about 15 and someone is rude to him at the playground and they make reference to the tape. I have to brace him up."
Watch the video below:
DOWNLOAD VIDEO HERE
Obi Cubana Net Worth, Cars, Houses, Biography, Wife, Clubs
Obi Cubana Biography
Obinna Iyiegbu popularly known as Obi Cubana is a Nigerian Based businessman, entertainer, entrepreneur, philanthropist, and a show killer, he is the chairman and the owner of the popular Cabana groups, Obi Cubana was born 12th April 1975, and he is currently 45 Years Old as of this year 2020. Obinna Iyiegbu best known as OBI CUBANA is from Oba, a community in Demili-South Local Government Area in Anambra State, Nigeria.
Obi Cabana attended Central Primary School where he obtained his First School Leaving Certificate. He proceeded to Dennis Memorial Grammar School Located in Onitsha where he obtained his West Africa Senior School Certificate(WAEC).
| | |
| --- | --- |
| Real name | Obinna Iyiegbu |
| Date of birth | April 12, 1975 |
| Country of Origin | Federal Republic of Nigeria |
| Source of Wealth | Businessman |
| Net worth | $96 million |
| Wife | Mrs Ebele Iyiegbu |
| Children | Alex, Ifeanyi, Ebube, Kosisochukwu, |
In 1998, after completing his primary and secondary school education, Obi Cubana proceeded to the University of Nigeria where he obtained a degree in Political Science from the University of Nigeria Nsukka. In 2006, Obi Cubana started his first club Ibiza Club in Abuja seeking to satisfy fun seekers and nightlife lovers. Following the remarkable progress he made from the Ibiza Club, he established the Cubana group, a hospitality club that provides all-around entertainment satisfaction in 2009. Cubana group was first established in Owerri, Imo state capital Nigeria. Today, Cubana has spread across various states in the country including Lagos, Abuja, and Enugu.
List of Cubana Group businesses and establishments
Rolex Hotels – Lagos
Cubana Leisure Outfits
Pablo Cubana – Lagos
Crave Cubana – Abuja
Grand Cubana Hotels – Abuja
Opium Cubana – Owerri
Cubana Night Clubs – Lagos
Gustavo Cubana- Enugu
Obi Cubana works with close associates including Paschal Okechukwu popularly known as Cubana Chief Priest to manage his entertainment conglomerates around the country. Obi Cubana in a recent interview revealed that he is currently working on Cubana Dubai and Cubana Real Estate.
Obi Cubana Awards
Obi Cubana has won several awards and recognition across the country, it is expanding its reach across Nigerian borders and also outside Nigeria. Some of the awards Obi Cubana have been won includes;
Democracy Heroes Award 2018 as Democracy Entrepreneur of the year.
The RightVille School special leadership Award, May 2017
Ghana-Nigeria Achievers Award 2017 as Inspiring Personality Award, 2017
Northern Nigeria Peace Summit/Award 2017 as Northern Nigeria Peace Builder of the year 2017
Nigeria Film corporation Entertainment as Icon Award 2017
Young Entrepreneur of the year 2016
Obi Cuban Personal life
In 2008, Obi Cubana got married to his beautiful wife, Ebele Iyiegbu who is a Lawyer by profession, and their union is blessed with four sons. She calls herself the mother of boys. Obi Cubana is married to Ebele Iyiegbu who is the founder and owner of the KIEK foundation, a non-governmental organization established with the aim of improving the lives of the less privileged children in our society through quality education, healthcare, nutrition, and child's rights governance.
Obi Cubana Wife
Billionaire businessman, Obi Cubana has revealed that he met his wife when he was staying in a one-room boys quarters in the Federal Capital Territory, Abuja.
Ebele Iyiegbu serves as the director at Casal Cubana homes, Founder/ CEO at The KIEK Foundation, and Legal Partner at Bryan Micheals & Associates. Obi Cubana and his wife Ebele tied the knot in 2008, they have four children together, all boys, Alex, Ifeanyi, Ebube, Kosisochukwu, Ebele was born in 1979, Obosi, Anambra State.
Obi Cubana Net Worth
Obi Cubana is currently one of the richest and the most influential personalities, entertainers, show promoters, and entrepreneurs in Nigeria, his net worth is estimated to be $96 million. This is based on his income, properties, and asset.
Obi Cubana Cars
Two Lexus LX
He and his wife own one each, this is the car they use for their family time out when going for a trip, it is a nice spacious SUV and it has the following features. A 5.7-liter V8 with 403 lb-ft of torque3 adds to the power behind the prestige, With a commanding stance and eye-catching LED illumination, the LX dominates with style and grace. The LX offers a bird's-eye view of the vehicle's surroundings19 for added safety and peace of mind.
Mercedes Benz 4matic S450
This is his personal car, he has seen around with the car most time as he says he likes the car because it's simple.it has the following features. The S450 4Matic is identical to the regular S450, but with the addition of all-wheel-drive and without the option of Magic Body Control. This means that it can accelerate slightly more quickly, but the negative impact lies in fuel economy and ultimate comfort. Check Mercedes Benz 4matic S450
Obi cubana Range Rover
The car has been spotted with obi Cubana's wife severally as she uses it to her office and other important places. It has the following features, delivers an exceptionally refined experience and leading Range Rover Sport capability both on- and off-road. PHEV takes the Range Rover Sport from 0-60 mph in just 6.3 seconds and on to a top speed of 137 mph. Check Mercedes Benz 4matic S450
Obi Cubana Rolls Royce Phantom
Who is the owner of Cubana?
Obinna Iyiegbu popularly known as Obi Cubana owns the highest shares for Cubana Group – Africa's Most Palatial Ecstatic Hospitality Brand.
Obi Cubana House
Obi Cubana has a millionaire worth mansion which he recently completed. The interior decor of this mansion is mouth-watering and almost beyond the normal standards of a palace. This bespoke mansion has a private cinema, also an underground wine cellar, a private pool, and several other amenities in the mansion
Obi Cubana mum's burial
The Nightlife entrepreneur was said to have gotten 346 Cows, 72 Goats, 20 Rams for Mother's Burial, Mr. Obinna Iyiegbu has not stopped receiving gifts from his friends, employees, and those he has supported through life, It was earlier reported that Obi got 46 cows from his former employee Cubana Chiefpriest and 10 cows from his old time friend and young billionaire Jowi Zaza.
Obi Cubana mansion in Abuja
Cubana Group Boss has a new mansion worth billions of naira with world-class designs and interior in Abuja, Obi recently invited friends over for a tour.
Video of the new mansion which is nearing completion was shared on Snapchat by oil tycoon, Joseph Ezeokafor popularly known as Jowizazaa. It features a private cinema, an underground wine cellar, a private pool, and many others.
Conclusion
Obi cabana is a business that has achieved a lot so far but still has a great personality and likes to keep a low profile life, he has just a few cars and a lot of assets.
Applying for a Russian Visa? Travel Insurance for Russia May be Mandatory
Applying for a Russian Visa? Travel Insurance for Russia May be Mandatory
Everyone who visits Russia needs a visa and it's likely to be the single most painful issue a traveler has when trying to organize a trip to Russia. Travelers are reminded to allow themselves at least two months prior to their trip to secure a tourist visa which is valid for a maximum of 30 days from the date of entry. If you plan to stay longer than a month, it is advised that you apply for a business visa instead.
Obtaining a Russian Visa Can Be Difficult
Obtaining a visa to Russia can be difficult, and it's practically impossible without insurance. No matter which visa you choose to apply for, there is a well-defined process for applying and getting your Russian visa. The process begins in an unusual way, however – you must first have an invitation. Hotels and hostels will usually issue a visa invitation to anyone staying with them for a small fee. If you are not staying in a hotel or hostel, you will need to buy an invitation and this can be done through a travel agent.
With your invitation in hand, you can then fill out the application and submit it to any Russian embassy. The cost for processing the application vary widely and depend on the type of visa, how quickly you need it, and other unpredictable factors.
Why Travel Health Insurance is Required for Russia
Medical insurance is a supplementary requirement and valid only for certain citizens. Officially, the requirement is based on reciprocity, i.e., travel health insurance is required from citizens of those states that made it mandatory for Russian citizens to have a medical insurance policy when traveling inside their country. The requirement has become more ambiguous in recent years and centralized regulations have not been communicated to all Russian consulates.
Having Travel Medical Insurance Means Not Having to Pay in Russia
Regardless of whether travel health insurance is required for you or not, the absence of it can be a reason for rejection of your tourist or business visa. In addition, while the travel medical insurance requirement does not extend to citizens of Schengen states, Israel, Estonia, and Finland who live and/or work in the Russian Federation (among other requirements), having travel medical insurance means that the traveler will not have to pay for their medical care costs in an emergency medical situation – injury, accident, or illness.
In addition, your travel medical insurance plan will cover life-saving medical evacuations if you are severely injured or killed during your trip in Russia. This fact alone can make the minimal amount a traveler spends on travel health insurance worth the premium they pay.