Nigeria ranked highest porn-watching country in the world, Ghana 2nd (Read The Full List)
PornHub has ranked Nigeria as the highest patron of its pornographic content in the whole world.
Ghana came second at the top of the list while Kenya and Eygpt maintained the third and fourth spot respectively.
Interestingly, although Ghana boasts of cooking better jollof rice than Nigeria, the latter has taken the top position on the list as the highest porn-watching country in the world.
The world's leading pornographic company has released a list of viewers and subscribers from the Top 25 countries across the globe that patronize their products, according to a report sighted on Peacefmonline.com.
Despite Ghana being a religious country with Christians constituting about 71% of the population while Muslims make up about 17%, PornHub says the citizens are the second-highest lovers of its pornographic movies, pictures, and skits.
Kenya took the third position on the list as another porn-loving African country, representing the eastern part of the continent 'proudly'.
What's equally interesting is the fact that North African countries – Egypt and Morocco where about 90 percent of their citizens are Muslims came fourth and fifth respectively to complete the Top Five.
Ironically, United States, United Kingdom, Canada, France and others that are tagged as care-free and 'immoral' are rather trailing 'moral' African countries in the list that has been circulating online.
How To Hide Chats In WhatsApp Without Archive
How To Hide Chats In WhatsApp Without Archive
Almost all WhatsApp users have been in a situation where they have looked to hide some of their chats yet it is not always as straightforward as it seems.
Until now, WhatsApp would allow you to hide certain conversations but they would reappear whenever a new message arrives, pushing them right back to the top of the list of messages which defeated the purpose of hiding them in the first place.
That has all changed however as WhatsApp has revealed that it has moved to hide chats in a separate folder without archived feeds reappearing in the main section upon receiving a new message.
"We have heard that users want their archived messages to stay tucked away in the Archived Chats folder, instead of moving back into your main chat list when a new message arrives," the company tweeted.
"The new Archived Chats settings mean that any message thread archived will stay in the Archived Chats folder, even if a new message is sent to that thread."
Here are steps to keep messages archived on WhatsApp:
1. Open the WhatsApp application
2.Tap on the 'More options' section on the 'Chats' tab
3. Select 'Chats', then 'Chats history', and then 'Archive all chats'
In order to send one single chat conversation into the archive section, you must tap and hold on the chat that you want to hide.
You will no longer receive notifications about these conversations "unless they are mentioned or replied to" according to WhatsApp.
You can go back at any time and make changes to the settings for each chat by revisiting the "archived chats" section and follow the steps above as you see fit.
Am Looking For A Serious Relationship With A Cute Guy
A by the name of Stella, has reached out to Sugarmummy.org.ng to get a cut boyfriend. This is not your regular girl, because she dates Senators, Ministers and big political shoes.

Hookup]: Am Looking For A Serious Relationship With A Cute Guy
Miss Stella has virtually traveled around the world, and is tired of dating this billionaires, who are married and left their husband at home. She is tired of dating other Women's Men. She wants her own. Money is not a problem for Miss Stella, because she has this Men at her beck and call anytime and any day.
Are you interested in dating this beautiful Young woman, who will support you with everything you need, as far as you won't be cheating on her? Then get her contacts NOW!
Before anything, please take note that Miss Stella is looking for a serious relationship with a guy, and will pick any gentleman that she likes.
Simply drop your contact details, either your whatsapp phone number or phone number. You can also drop your facebook username, skype ID or even your instagram handle. She wants a man that she can call her own.
If you share this on facebook, you stand a better chance of getting her number.
NOTE: For serious guys ONLY.
Pastor's Watch Video wife and Deaconess' daughter fight dirty on church's altar in Abia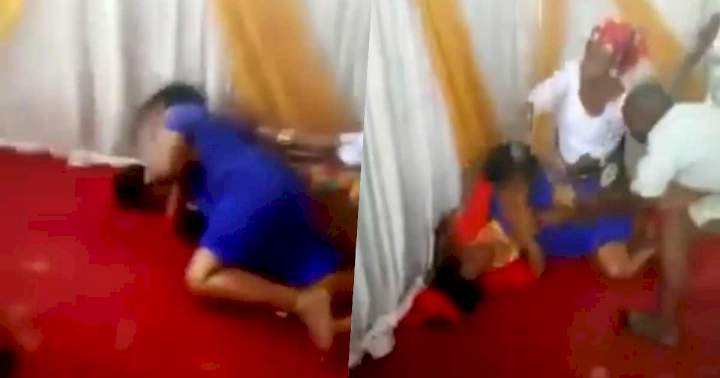 Pastor's wife and Deaconess' daughter fight dirty on church's altar in Abia (Video)
Video making rounds on social media captures the moment a pastor's wife and the deaconess' daughter turned the church's altar to their fighting ground.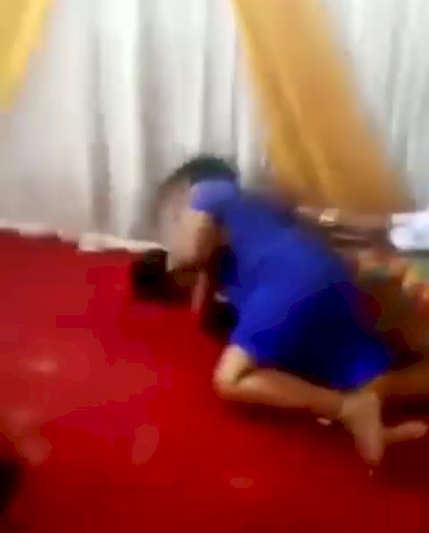 According to the narration shared by a Facebook user identified as Sunday Ogirima, the church became a chaotic ground as the individuals meant to uphold coordination are the ones exchanging blows.
In his words;
"TST DAILY DIGEST

SHAMELESS DANCE IN THE CHURCH

The women fighting inside this Church are TST. The mummy on blue is Mrs Akaa wife of our Pastor in Umuahia District. The lady receiving the heat is the daughter of the Deaconess who is on top of the Pastor's wife. They are our TST warriors fighting themselves inside the Church.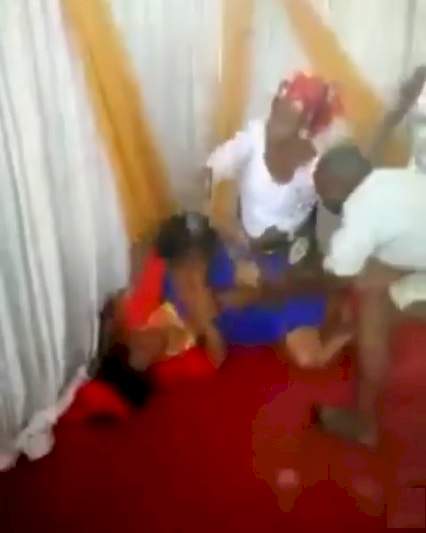 My conscience will not be at rest if I see this and close my mouth when I know that if it is TAG that did it I will not spare them.

We speak the truth even if it affects us.

Some may not like me for doing this against TST Family but it doesn't matter. I'm very sorry but I have to do this. I will still do the same thing again to show others that while we condemn TAG for being rebellious and rejecting peace and Reconciliation in AG Nigeria we don't have immunity or license to act the same way and be free."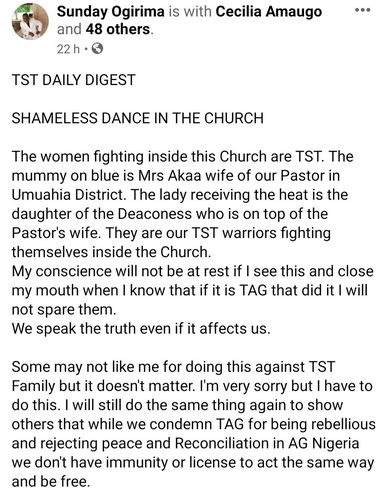 Watch the video below …